St Patrick's Cathedral, Ballarat
Communities of Alfredton, Ballarat, Cardigan
Lake Gardens, Lake Wendouree, Lucas, Newington
St Patrick's Cathedral Parish acknowledges that the Aboriginal people of Australia are our first nation peoples and the traditional owners and custodians of this land.
We are a child safe Parish following the Child Safe Standards outlined by the Victorian Government, implementing procedures and standards as directed by the Professional Standards Office of the
Catholic Diocese of Ballarat.
THIRD SUNDAY of EASTER

18
th April 2021
On Mondays the Parish Office is closed.



On weekends and after regular office hours,
the phone will be transferred to the on call priest
so that the Hospitals, Aged Care facilities, Funeral Directors
or others seeking the services of a priest may be responded to.


Prayer and Worship in the Cathedral this week
Monday 19th April
8.00am Morning Prayer
10.00am   Mass
5.30pm Evening Prayer
Tuesday 20th April
8.00am Morning Prayer
10.00am Mass
5.30pm Evening Prayer
Wednesday 21st April


8.00am Morning Prayer

10.00am Mass


5.30pm ACU Mass
Thursday
22nd April
8.00am Morning Prayer
10.00am Mass
5.30pm Evening Prayer
Friday 23rd A
pril
8.00am Morning Prayer
10.00am Mass
followed by Reconciliation
5.30pm Evening Prayer
Saturday 24th April
1
0.00am Mass

followed by Reconciliation

Weekend Masses


Saturday Vigil
5.30pm
(note change of time)
Sunday 8.00am, 10.30am, 5.00pm
Please note the Cathedral is now able to open each day for personal prayer.
Please follow the COVIDSafe guidelines of
registering
your name and using the hand sanitiser available
each time you visit

.
Readings for this week:

  Third Sunday of Easter



First: 

Acts 3:13-15. 17-19 

Second:   

1 John 2:1-5



Gospel: 

Luke 24:35-48

Readings for next week:  

Fourth Sunday of Easter





First:

  

Acts 4:8-12

  

Second:

1 John 3:1-2



Gospel:

John 10:11-18


ANNIVERSARIES:


Majella Ahearn
Paul Anderson
Peggy Brooks
Doreen Buckley
James & Elizabeth Cloney
Kevin Cunningham
Edward Fanning
John Foley
Werner Gotthold
Daphne Haley
Brendan Hammond
Shirley Krzempek
Helen Lange
Geraldine Lynch
Christopher Lyons
Basil Maher
Michael Murphy
Andrea Pagliaro
Sr Mary Majella Pierce
Veronica Re
Sr Eileen Riley IBVM
Ellen Segrave
Laurence Stevens
Patrick Thompson
Andries van der Horst
James Woodruff





We welcome to our Parish this weekend through the Sacrament of Baptism:
Summer Tyla & Airlie Sloane Sneddon,
daughters of Christopher and Renae



Layla Catherine Stockdale,

daughter of Joel and Laura


"The Church gives the faith to your children through Baptism and you have the task to make it grow…" Pope Francis.
May these children grow in faith with the support of their
families and our Catholic Community.
St Vincent de Paul Changeover meeting
During this past week, members of the St Vincent de Paul Society's Cathedral Conference gathered in the Cathedral hall for their annual changeover meeting.

Alan West, who has served as Conference President in recent years has concluded his term. We thank Alan for his energetic leadership and service to our whole community during his term as President. We welcome Kevin Elliott into this role and offer him our encouragement and support.

Image: 
Outgoing Conference President Alan West and new Conference President Kevin Elliott.
Graeme Trethowan, who has been treasurer for many years has handed this role over to Margaret Howell. Thank you to Graeme for his dedicated service to the Society over many years and we offer our thanks to Margaret as she commences. Frank Stuart continues as Vice-President and Mary McAloon as secretary.


The Assistance Centre, located in Dawson St Sth at the front of the smaller Cathedral hall has reopened this week. Thank you to all the volunteers who seek to offer assistance to those who come seeking help.
Image:  Liz Bingham, Mary Reus and Wobbles (Assistance Centre volunteers).



We thanks the Conference members and volunteers at the Assistance Centre for their commitment to Gospel service, outreach and care.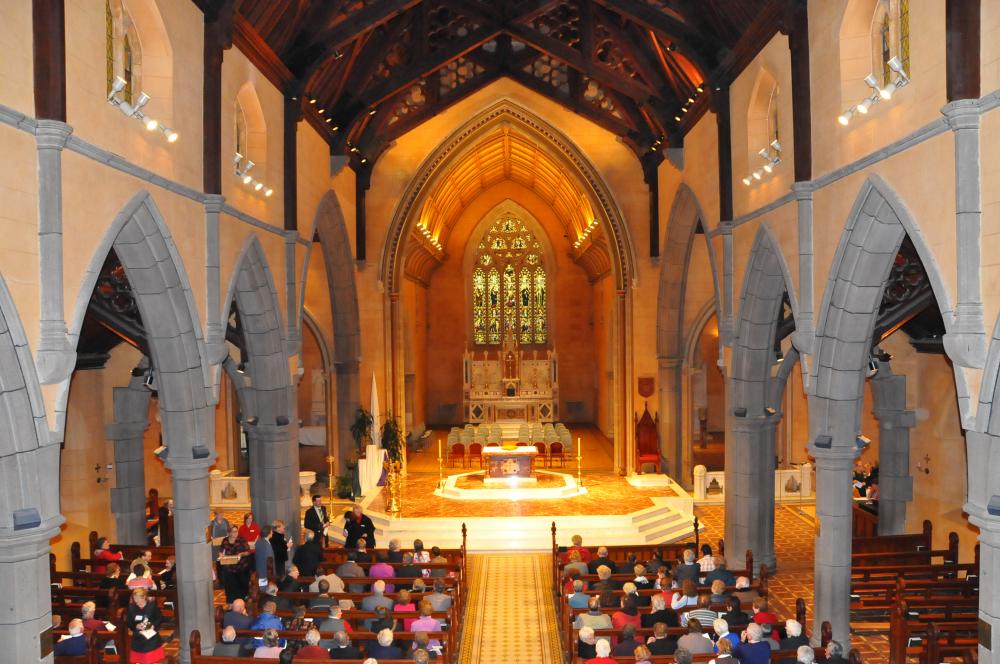 Invitation to Ministry

As we gradually have COVID-19 restrictions lifted and become accustomed to the     'new normal,' we are recommencing many of the ministries within our Cathedral Parish.

The Liturgy team have recommenced rosters for the weekend Masses - if you would like to join one of the ministries at the 5.30pm Vigil or 8.00am, 10.30am or 5.00pm Sunday Masses, we would welcome your expression of interest to the Parish Office.
We are recommencing the ministry of Parish Baptism Sponsors to accompany the many families who are seeking baptism for their children. Our baptisms are booked through to October!! We hope that our former Parish Baptism Sponsors will continue and that they will be joined by new Sponsors. We will hold a gathering of all of those interested in this ministry in the coming weeks - register your interest to Anita in the Parish Office.
Public Consultation opens on Catholic Church's New Model for Complaints and Redress in Victoria
The Catholic Dioceses of Victoria have today announced the opening of a public consultation period for a new process of response to complaints and redress relating to abuse in the Catholic Church. It is important that voices of those who have experienced abuse are heard, and that their feedback helps to shape this new model.





The proposed model, Pathways Victoria, will provide an operationally independent structure for implementing the Catholic Church's National Response Protocol released earlier this year, and will provide a person-centred and trauma-informed response. This r

esponds directly to Recommendations 7.7 and 16.37 of the Royal Commission into Institutional Responses to Child Sexual Abuse.

Pathways Victoria will replace the Melbourne Response and Towards Healing processes that have been in place for nearly twenty-five years and will operate alongside the vital and ongoing services of Carelink.





This new model will offer a set of compassionate, just and appropriately resourced processes to investigate complaints and respond to survivors, as an alternative to existing options such as the National Redress Scheme and civil litigation. It offers a pathway where survivors are listened to, acknowledged, compensated and given care. For those who seek it, survivors have an opportunity to reconnect spiritually, with the restoration of links with the Church community.





Early notification of this announcement was shared with individual survivors and advocacy groups to enable support to be sought where needed, as well as with key stakeholders including the Acting Premier and the Commission for Children and Young People.




Survivors, their support persons and others who have lived with the effects of abuse, or have professional experience in this area, are strongly encouraged to be represented in this consultation phase, which will run from 13 April until 14 May 2021.



Further information with access to the community consultation can be found

here

.

ANZAC Day in Ballarat Sunday April 25th 2021
Ballarat residents are invited to pay tribute to and remember those who have served at one of the many services being held across the municipality on Sunday 25 April 2021.

The two ANZAC Day services will go ahead: one at 6am and one at 10.30am with the march. Attendee numbers will be limited to make sure safe distancing can happen.

6am Dawn Service at the Ballarat Cenotaph in Sturt Street
10.30am ANZAC Day March, from Lyons Street North to Ballarat Cenotaph
11am Commemorative Service at the Ballarat Cenotaph,

You will need to register your attendance by reserving a free ticket.         
                                

Road closures

                                                                            

       

For the safety of participants and all road users, the following traffic changes will be in place on Sunday 25 April 2021.    
                                                                     
Sturt Street, Ballarat Cenotaph – Anzac Day Service

Sturt Street will be closed from Dawson Street
to Raglan Street in both directions to all traffic between 1am and 4pm.

During this closure, the following roads will be impacted:
Lyons Street South will be closed between Dana Street and Sturt Street with access for local traffic only, via Dana Street only (except between 9.30am and 11.30am).
Lyons Street North will be closed between Sturt Street and Mair Street with access for local traffic only, via Mair Street only (except between 9.30am and 11.30am).

Access to the Cathedral carpark
for 10.30am Mass on Sunday will be via the Dawson St front gate of the Cathedral
Preparation for the celebration of First Eucharist begins with a
parent information session as follows:  

                         Date:               Tuesday 27th April 2021

                         Time:               10.00am or 5.30pm

                         Location:         MacKillop/Glowrey Rooms
                                                                        of St Patrick's Hall
This preparation session is for children in school year 4 or older who have already prepared for and celebrated the Sacraments Confirmation and Reconciliation.
To be included in the program, we
ask all parents or caregivers of each child to attend one of the sessions please.
Any queries, please make contact with the
Parish Office
.

Liturgy Team review and evaluates
Holy Week in the Parish


Members of the Parish Liturgy team met during the week, reviewing the liturgies of Holy Week. This year, due to the COVID-19 restrictions, numbers in the Cathedral were limited to 300. To ensure that as many as possible could participate in the liturgies of Holy Week, the Chapel at St Patrick's College was also used to celebrate Holy Thursday, Good Friday and Easter Sunday. We are grateful to Steven O'Connor and all at St Pat's for enabling us to celebrate these liturgies in the College Chapel. Thank you to Helen Lee, Les Stuart and Rose Mecca who coordinated the liturgies in the College Chapel.
The liturgies in the Cathedral were coordinated by Deneise Walsh, Kathleen Hayes, Kay Curran, Susan Crowe and Therese O'Loughlin. Thank you to each of these team members for their service. Over the Holy Week liturgies in the Parish, many served in art and environment, cleaning, communion ministries, ministries of music and song, proclamation and prayer, registration and welcome, sacristans and many more – thank you to all who were involved and Easter blessing to everyone!
When you're not okay: a guide to staying well in the wake of COVID-19
Feeling a bit 'off' this year and can't quite put your finger on it? The sun is now shining, you can visit family and friends, and celebrate public liturgical services, so why are you not feeling so great? You think you should be back to normal as everything settles down.

For many of us, while life has turned in a positive direction, it may be much harder for our minds, bodies and spirits to adjust immediately to the new pace, as positive as it may be. This appears to be an extremely common current phenomenon, evident in my patients and those around me.

The gravity of last year's events is starting to hit many full force, emerging out of what has been an unhealthily prolonged period of operating in survival mode. Think back to last year when our world was turned inside out and upside down by the threat of a deadly and contagious virus that caused international borders to close, and kept us confined in our homes for up to 23 hours a day. There were ever-changing, head-spinning restrictions to keep up with, and workplaces became increasingly more virtual as they adapted rapidly to this changed reality.  Many families lost a lot of the practical supports they heavily relied on to keep the wheels turning. Many individuals experienced soul-crushing isolation, and for the first time in their lives, many suffered a steep decline in their mental wellbeing.

As in health care, those working in pastoral care were challenged by the intense suffering of their flock, who were without the usual means of personal outreach that could support, heal and restore. Grief was further complicated by families being separated from dying relatives, and funeral services being postponed or limited to the smallest numbers. Joy and celebration were put on hold, with happy events like weddings and baptisms interrupted. Access to churches and sacramental life was restricted, while other community activities could resume. Many lost their sources of income and, tragically, some lost their lives in despair.

While many of us were able to adapt, survive and even see the silver linings in these difficult times, we cannot simply ignore the collective suffering and pain experienced. When we don't process our emotions healthily and suppress our challenging experiences, it can have an impact on our physical, mental and spiritual wellbeing.

Read this whole reflection by Dr Lucia Murnane

here

.


Haven of healing and hope
Residents at The Farm sit with Kate Cleary, at right, and caseworkers as they listen to a presentation. PHOTO: Patrick J Lee

New program helps women who have had few chances
Back in 2017 a tiny but daring seed of hope was planted to offer a new chance to struggling Australian women and their families. The daring involved was great. The idea to create a wholistic rehabilitation centre called 'The Farm at Galong' in a neglected former Mercy convent on three hectares of rundown property in the diminutive NSW village of Galong all came from one Catholic woman.

That woman, Kate Cleary, sensed a deepening vocation from the Holy Spirit to consecrate her life in deeper and more effective service to the desperate and struggling women she worked with in the prisons and often squalid homes near Canberra. Kate had a clear sense that these women were Christ's poor in our time, addicted as so many were to drugs, damaged by years of the most degrading sexual abuse and domestic violence, and crushed by relentless cycles of imprisonment, welfare dependence and living on the fringes.
"I REALISED THE RANGE AND DEPTH OF THEIR NEEDS WERE SO COMPLEX THAT VISITING THEM WAS NOT ENOUGH, I NEEDED TO LIVE BESIDE THEM AND WITH THEM."
KATE CLEARY
Read this article by Anna Krohn that was published in the Sydney Catholic Weekly,
here
.
Catholic Health Australia urges Government to embrace Australian Aged Care collaboration's
Way Forward
Catholic Health Australia (CHA) is urging the Morrison Government to use the Federal Budget to adopt the Australian Aged Care Collaboration's (AACC) priorities for reform detailed in its new
report
Aged Care - The Way Forward.
The AACC represents more than 1000 aged-care providers and peak bodies including Catholic Health Australia, Aged & Community Services Australia, Anglicare Australia, Baptist Care Australia, Leading Age Services Australia, and UnitingCare Australia.
The new report has examined the Royal Commission's findings to identify a range of priorities, including:
·

        
Committing to legislating a new rights-based Aged Care Act by July 2023.
·

        
Providing funding for the removal of the home care package waiting list by December 2022, and thereafter offering services based on assessed need within one month of assessment;
·

        
Funding the establishment of a regional network of 'care finders' and scalable assessment services, and increased support for independent advocacy; and
·

        
Establish an independent aged care pricing authority by July 2022 to determine prices for aged care services.
CHA chief executive Pat Garcia said next month's Federal Budget was the chance the government needed to totally overhaul the aged-care funding model and its workforce strategy.
"This is a once-in-a-generation opportunity for broad-scale aged-care reform, particularly in how it is funded and staffed," Mr Garcia said.

Read the Media release from Catholic Health Australia

here

.
PLANNED GIVING



Thank you for contributing to the Cathedral collections this week:
Parish $627.00
Presbytery $1,024.65


Any queries or concerns, or to make a contribution, please contact the Parish Office or email Finance Officer

Kerrie.



Gospel Reflection

Extraordinary things can happen if we open ourselves to the presence of a stranger on the road of life. That is one of the elements in today's gospel that forms the conclusion to the Emmaus story. When I was a student at Trinity College in Dublin researching Luke's depiction of women in the Acts of the Apostles, I would often take a detour on my way home to visit the National Gallery of Ireland. Velázquez' remarkable oil painting, Kitchen Maid with the Supper at Emmaus captured and held my attention. The viewer is confronted with a painting within a painting. The kitchen maid pauses from her tasks to listen, through the space between kitchen and dining area, to the conversation between Jesus and his table companions. Jesus' hosts have not yet recognised the companion they had encountered on the road from Jerusalem. Velázquez seems to be suggesting that the young servant woman in the foreground, a woman from another place and another time, has sensed what they have yet to discover. Like the servant woman, we might attend to this graced encounter, its prelude and its aftermath.
Imagine two dejected disciples (Cleopas and possibly his wife) on the road from Jerusalem to their home in Emmaus. On their journey, they encounter Jesus who has been raised. At first, they fail to recognise him. Their sadness at his death has blinded them to what is happening before their very eyes. He engages them in conversation and holds up a metaphorical mirror to their experience of loss and grief. Their hearts "burn" within them as he opens to them the meaning of their sacred scriptures. They invite him to share a meal with them and their eyes are opened: they recognise him in the breaking of the bread. Jesus then disappears from their midst. They cannot contain the joy they have experienced in realising that he is alive.
Cleopas and partner return immediately to Jerusalem to share the good news with the other disciples. All the assembled disciples experience powerfully the presence of Jesus in their midst. They share a meal with him. He opens their minds to understand the scriptures. Everything falls into place. They not only understand Jesus' death and resurrection in the light of the scriptures. They now know that they will be "clothed with power from on high" to exercise their role as witnesses to this great mystery, and to preach forgiveness to all peoples "beginning from Jerusalem".
Luke will open his second volume, the Acts of the Apostles, with the story of the risen One sending the disciples to be his witnesses to the ends of the earth. We who re-member these events in every Eucharistic celebration are both the recipients and the bearers of that message. If we allow our hearts to "burn" within us, we too may recognise the Risen One "on the road" and become his witnesses to the ends of the earth, engaging and even hosting the "strangers" we meet along the way.