St Patrick's Cathedral, Ballarat
Communities of Alfredton, Ballarat, Cardigan
Lake Gardens, Lake Wendouree, Lucas, Newington
St Patrick's Cathedral Parish acknowledges that the Aboriginal people of Australia are our first nation peoples and the traditional owners and custodians of this land.
We are a child safe Parish following the Child Safe Standards outlined by the Victorian Government, implementing procedures and standards as directed by the Professional Standards Office of the
Catholic Diocese of Ballarat.
HOLY TRINITY

SUNDAY
30th MAY 2021
The Parish Office will remain open as follows:
On Mondays the Parish Office is closed.



On weekends and after regular office hours,
the phone will be transferred to the on call priest
so that the Hospitals, Aged Care facilities, Funeral Directors
or others seeking the services of a priest may be responded to.


11.30am Mass
will be livestreamed
from the
Chapel at St John of God Hospital

each day

.
COVID RESTRICTIONS UPDATE


With the State of Victoria commencing a
seven-day lockdown
from 11.59pm on Thursday May 27
th
Victorians will only be allowed to leave their homes for five reasons:
Food and supplies
Authorised work
Care and caregiving
Exercise for up to two hours with one other person
Getting vaccinated

The following provisions apply to places of worship for the coming week.

No in-person gatherings are permitted so
the Cathedral will be closed to the public.
The celebrations of Masses for first communion for this weekend (May 29
th
– 30
th
) will be rescheduled.

11.30am Mass
will be livestreamed from the Chapel at St John of God Hospital each day. Join us for this online liturgical experience each day. Become a Facebook
friend with us to access these Masses
https://www.facebook.com/patricks.cathedral.9/
Funerals: A maximum of 10 people are allowed at funerals, plus those conducting the service. Children under 12 months are not counted towards the cap of 10.


Weddings: Weddings are not permitted unless deportation or end-of-life reasons apply. If those reasons do apply, the wedding gathering is limited to five people, including the two people getting married, a celebrant, and two witnesses.

If you feel that you need support or would like to speak with a priest or a member of our Cathedral team
please contact St Patrick's Cathedral Parish Office, which will be attended for the usual times (Tuesday – Friday, 10am – 5pm) 5331 2933 or alternatively you can email the Parish
ballarat@ballarat.catholic.org.au
Over this coming week we encourage all parishioners to reach out to their neighbours, family members, friends, colleagues and especially to those that you know who live on their own. For many this circuit breaker lockdown will be challenging and our pastoral care of each is an expression of our faith in the compassionate Christ and belonging to the Body of Christ.

Readings for this week:  

Holy Trinity





First:

Deuteronomy

4:32-34, 39-4-

Second:

Romans 8:14-17





Gospel:

  Matthew 28:16-20






Readings for next week: Body & Blood





First:

Exodus 24:3-8 

Second:

  Hebrews 9:11-15



Gospel:

  Mark 14:12-16, 22-26




RECENT DEATHS:

ANNIVERSARIES:


Trevor Cann
Bernard Vaughan
Margaret Waight
SACRAMENTS OF INITIATION
FIRST EUCHARIST CELEBRATIONS

Regrettably the announcement of a seven day lockdown commencing midnight Thursday 27th May to Thursday 3rd June inclusive, means we are unable to celebrate First Eucharist with the children from the Cathedral Parish this coming weekend.


We will communicate with all families in the next week when we have further information on whether restrictions will or will not enable celebrations to go ahead on the weekend of 5th/6th June and to advise what options there will be for those who have been postponed.

Any queries or concerns, please contact Anita at the Parish Office.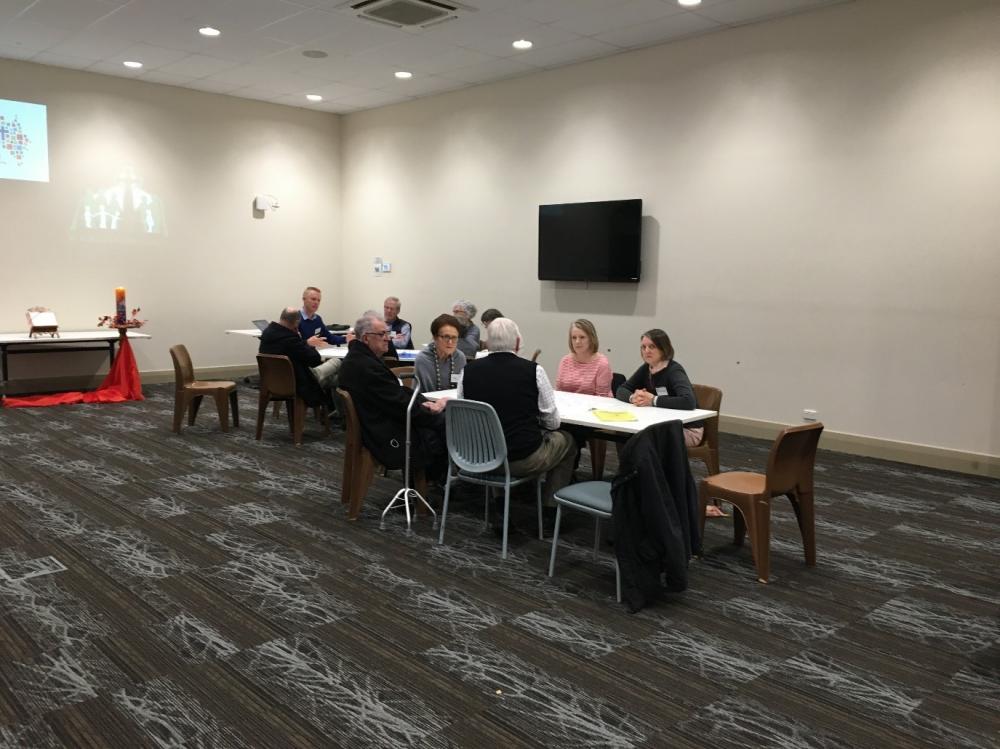 Cathedral Parish Pentecost Sunday Forum




On Pentecost Sunday afternoon the Parish Pastoral Council hosted a forum for the coordinators and contacts persons from each of the groups, ministries and Catholic organisations within the Cathedral Parish. It was wonderful to see so many respond to the invitation to gather together and connect, build relationships and reflect on four questions in particular:


Tell us what your Parish Group is about and how it fits into the Parish? Imagine someone would like to join your group – how would you promote the "work" of your group?             

What is it you think that the Parish Pastoral Council can do to assist you in your Parish group?

 
How do you believe that your parish group fosters welcome and diversity within our Parish?
During the restrictions enforced during COVID, how did your Parish Group explore and utilise creative ways of meeting? What lessons did you learn as you needed to cope with the changes forced on us by COVID?
National Reconciliation Week May 27th – June 3rd
Reconciliation is a journey for all Australians – as individuals, families, communities, organisations and importantly as a nation. At the heart of this journey are relationships between the broader Australian community and Aboriginal and Torres Strait Islander peoples.
To our new supporters, please remember the importance of privileging and amplifying First Nations' voices as you add your voice to calls for reconciliation and justice.
We all have a role to play when it comes to reconciliation, and in playing our part we collectively build relationships and communities that value Aboriginal and Torres Strait Islander peoples, histories, cultures, and futures.
2021 marks twenty years of Reconciliation Australia and almost three decades of Australia's formal reconciliation process.
Dying and the question of dignity

As a palliative care nurse, I have been privileged to be with many people at the time of their death. People of different ages, nationalities, professions and family histories, in homes, hospitals and aged care facilities. Dying is hard work, perhaps the hardest we will do;
although living through the death of a person
we love might be the toughest task of all.
A
nd yet on the faces of people close to death and those around them, I have seen not just fear, sorrow and pain, but smiles, winks, joy and flashes of pure love, too. This writing is to share just a few of the many profound moments I have witnessed in my work, which I believe speak to our human dignity in a way that euthanasia and assisted suicide never could.
One night, I was called to see a man at his home. He lived with his family, was in his fifties and had advanced cancer. His wife asked me to come because his breathing and consciousness had changed, and she was anxious for him. He lay on the bed, she and their three young adult children close by. Sitting on the side of the bed, I carefully looked over him. His breathing was irregular; his eyes were closed. He was no longer speaking, but somehow, his face and body communicated deep peace.


I looked up to his wife and children and spoke about his death being near and how peaceful he looked. That there was no need to do anything except to stay with him and that he could hear them speaking, even if he couldn't answer. His children were very quiet and I don't exactly recall what his wife said to me in return, but I do remember profound relief and thankfulness flashing across her face. The man died at home early in the next day. Later, she conveyed back to me how those few words about his peace had sustained them during their last night together, and in the hard days following.


Others stay with me — an unconscious woman, whose face suddenly and unexpectedly radiated
bliss
as we gently turned her in the hospital bed the day before she died. Two young parents, gathered with other family around a small boy as he lay dying on bed in a room of their house one long summer afternoon and evening, sharing a small family joke that brought laughter and lightness to the almost overwhelming heartbreak and sorrow we had all felt in the hours before. When that lightness came into the room, the little boy quietly breathed his last breath and died, as though he had been waiting for just that moment.


Peace, laughter and lightness during dying might seem unlikely, but such experiences are common, not rare. Seeing and sharing in these sudden, strengthening consolations (and receiving them in my own griefs) have taught me about our awesome potential to transcend suffering, and confirmed why we don't need euthanasia or assisted suicide.
Read the article by Annemarie Hosie in Eureka Street
here
.
Prayer as Humble Dialogue with God
Prayer is not a magic wand or a way to ask God to be at one's service, Pope Francis said.
Prayer is a humble dialogue with God to grow spiritually and discover his will for the world, the pope said May 26 during his weekly general audience.
"In prayer, it is God who must convert us, not we who must convert God," he said.
The audience was held in the San Damaso Courtyard of the Apostolic Palace, where attendees were obliged to wear masks, but many ignored social distancing rules as they crowded along the barricades to greet and speak with Pope Francis.
The pope, who had taken off his mask, spoke at length with people, blessing them or objects they had brought, drinking maté, swapping zucchettos and signing books.
One of the many people the pope spoke with was Belarus-born Lidia Maksymowicz, 80, who spent three years at the Auschwitz-Birkenau concentration camp after she was sent there when she was 2 years old. The pope kissed the prisoner number tattooed on her left arm and the two embraced.
In his main audience talk, the pope continued his series on prayer by looking at how people can be certain God really listens to their prayers.
"Sometimes our prayers seem to go unheard, what we have asked for — for ourselves or for others — is not fulfilled," he said. "Why does he not respond to our requests?" the pope asked.
The Catechism of the Catholic Church (2735) asks people to think more deeply about why they demand to see the results of their petitions: "What is the image of God that motivates our prayer: an instrument to be used? or the Father of our Lord Jesus Christ?" it says.
The pope said this passage warns people to avoid "the risk of not living an authentic experience of faith, but of transforming the relationship with God into something magical."

Read this full article

here.
St Vincent Pallotti Scholarship for Lay Ministry



St Vincent Pallotti, founded the Union of Catholic Apostolate (UAC) in 1835.  St Vincent Pallotti's aim was to spread the concept of a Church in which all people are actively involved.


The St Vincent Pallotti Scholarship Trust * offers scholarships to enable lay people to further their understanding and skills in leadership/ministry or a specialised activity, for example; the promotion of faith enhancement, social justice and pastoral care.  


Scholarships of between $500 and $3,000 are awarded on an annual basis.


Scholarship recipients will be required to provide a written report within 12 months of receiving the grant, and if requested, be available to deliver a brief presentation within the UAC Community. Applicants are required to email their completed Application Form to:

Ballarat Diocese
Lay Pastoral Ministry Virtual Learning
Our partner, Dayton University, offers low-cost online study and formation for employed or volunteer lay workers in parish and other ministries. Study subjects over 3 and 5 week cycles
.

Study Cycle 5 begins

July 4. Registrations are now open for new and returning participants.

For more information go to
www.ballarat.catholic.org.au
or email
djurdja.klaric@ballarat.catholic.org.au
or 5337 7121.

CatholicCare Victoria Board Recruitment
The Board of CatholicCare Victoria is seeking expressions of interest from suitably qualified people who are committed to strengthening individuals, families and communities, to enable everyone to reach their full potential and live life to the full.  We are seeking to appoint two (2) high quality leaders to join our Board, with executive level experience in one or more of the following areas:  Legal; Social and Community Housing; Corporate Governance; Government Engagement; Technology; Philanthropy.  In addition to these, key to the role will be your knowledge or understanding of governance principles, including a Board director's legal, ethical, fiduciary and financial responsibilities.  More information is available

here.






PLANNED GIVING



Thank you for contributing to the Cathedral collections this week:
Parish $650.00
Presbytery $927.85


Any queries or concerns, or to make a contribution, please contact the Parish Office or email Finance Officer

Kerrie.



Gospel Reflection


Trinity Sunday celebrates the core Christian conviction that God is a communion of relational love. For the people of Israel, no other god could compare with their God whom they knew as both creator and liberator and whom they experienced as intimately involved in every aspect of their history and of their day-to-day lives. In a world of many gods, the assertion found in today's first reading from Deuteronomy that there is "no other god" was an enormous claim to make. God's sustaining and liberating presence brought with it serious responsibilities: keeping God's commandments grounded the people of Israel and their descendants in the life of their God.   

The earliest Christians inherited the Jewish belief in one God. At the same time, Christians expressed their faith in distinctively Trinitarian language. Over the first six centuries of the Christian era, the belief that God is a communion of love was to develop into the doctrine of the Trinity, a teaching that is at the heart of Christian faith. The word Trinity is not used in the Christian Scriptures. In fact, it was not until the Council of Constantinople in 381CE that the doctrine of the Trinity was set out in the creed, and not until the Second Council of Constantinople in 551CE that the word "Trinity" was actually used of the Triune God.

Today's gospel reading brings Matthew's gospel to a close. Jesus commands his disciples to make disciples of all peoples and to baptize in the name of the Trinity. At the beginning of this gospel, Jesus is named Emmanuel, "God with us". With Jesus' final assurance, "know that I am with you always", we find ourselves gathered into the very life of God.  Perichoresis, a Greek term suggestive of a cyclical movement or of figures interweaving, is one of the earliest and probably one of the most striking images or metaphors used to explain the Trinity. The life that is in God is understood, in this image, as a totally harmonious movement of equals. The wonder is that we are gathered into this movement. As St. Paul reminds us in today's reading from his letter to the community in Rome, God is not a distant God, but rather a God whose Spirit draws us, as "joint heirs with Christ", into God's own life of love and relationship. Trinity Sunday is the day we set aside to celebrate the mystery of God and the nearness of God who invites us into the dynamic cycle of life and love, a cycle that reaches out beyond the human community and embraces the entire cosmos. As we make the sign of the cross, a symbolic action with a two millennia history (from 2nd Century CE), we might become more and more attentive to the wonder of the divine life that dwells in us and in whom we are privileged to dwell.